Posted by

Wendy
on October 4, 2014 - 1:05am
http://www.networkworld.com/article/2691105/opensource-subnet/mesh-networks-and-firechat-how-hong-kong-protestors-are-keeping-communications-alive.html
Mesh networks and FireChat: How Hong Kong protestors are keeping communications alive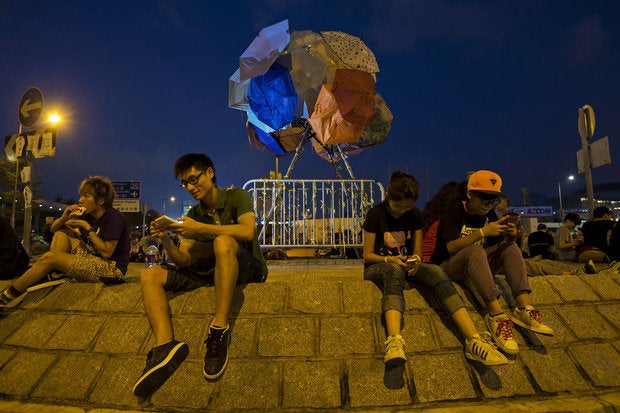 Protesters sit in front of an art installation made from umbrellas and railings by local university students, outside the government headquarters in Hong Kong October 1, 2014.
Credit: REUTERS/Tyrone Siu

Smart Mobs are getting smarter. FireChat's mesh network messaging app interconnects protestors independent of carriers, and Chinese authorities can't shut it down.
Hong Kong protests are the latest example of a Smart Mob, a term coined by Howard Rheingold in his 2003 book. Smart Mobs, which consist of protesters who use mobile technology to organize and evade law enforcement, first appeared during the anti-globalization protests at the World Trade Organization meeting in Seattle, known as the Battle in Seattle in 1999. In response to aggressive policing, activists operating in semi-autonomous groups relied on text messages to organize swarms of protests and then disperse as the police approached.
Hong Kong protesters are using an app called FireChat to coordinate and communicate and get news from sources outside of Hong Kong. Anyone in the world with an Android smartphone or iPhone can download the app, join the group Occupy Central – English, and monitor the protests.
FireChat can't be shut down because it doesn't depend on the mobile carriers' networks to send messages, but instead coordinates all Wi-Fi and Bluetooth communications on the FireChat protesters' smartphones into a single mesh network. FireChat can also use the cellular and 4G networks, but operates independently of the core infrastructure if the public networks became unavailable.
Open Garden executive Christophe Daligault summed up the capability of FireChat to NPR when he said:
"Once you build a mesh network … now you have a network that is resilient, self-healing, cannot be controlled by any central organization, cannot be shut down and is always working."
The adoption and use of Open Garden has exploded in Hong Kong. Just a few days ago FireChat had been downloaded 100,000 times, according to the International Business Times. Earlier today, Open Garden CEO Micha Benoliel released updated download and usage statistics via an email from Hong Kong FireChat.
Featured Resource
Presented by Scribe Software
Data integration is often underestimated and poorly implemented, taking time and resources. Yet it
The use of mobile messaging and social media in political protests and civil disobedience isn't new. TxTMob, a one-to-many text messaging service, was used effectively to stage protests at the 2004 Republican National Convention (pdf.) The London Riots of 2011 were broadcast on Facebook and Twitter, but much of the organizing was done using BlackBerry Messenger, which at the time  was used by 35% of London's youth. And history will never forget Wael Ghonim, former Google executive who in 2011 adeptly used Facebook to organize the Arab Spring protests in Egypt, igniting an uprising that led to the resignation of President Hosni Mubarak and the dissolution of the ruling National Democratic Party.
But all of these predecessor protests and revolutions had a single point of failure – the networks could be turned off and the apps could all be blocked from access with a little network engineering. In fact, earlier this year during protests in Turkey, Twitter was blocked. But FireChat's mesh network is operated by the protesters in Hong Kong.
A prototype mesh network was built by Josh Thomas and Jeff Robble as an open source project. Their inspiration was the devastating Haitian earthquake of 2010. Thomas and Robble were volunteer aid workers. Though Haiti's mobile networks survived the earthquake, the thousands of aid workers who arrived on the scene eventually brought them down while trying to coordinate rescue efforts. Thomas and Robble returned and created the open source SPAN network that interconnected Android smartphones using the devices' Wi-Fi in a mesh network. The SPAN project became a staple for university and enterprise mobile network researchers.
FireChat shouldn't be mistaken as a tool designed just for protests. Quartz reports that it is used extensively in India, where mobile carrier coverage can be limited. One can imagine smartphones becoming a mesh network unto themselves as more apps use the underlying technology developed by Open Garden and Thomas and Robble making every group independent of the carrier networks.